back to Main Page

The Wichita Falls York Rite Bodies meet in the Faith Lodge building located at 3503 Kemp Blvd. in Wichita Falls, Texas.
Wichita Falls York Rite Bodies may be contacted by email, YORK RITE
Wichita Falls Chapter No. 202 Royal Arch Masons and Wichita Falls Council No. 140 Royal and Select Masters meet on alternating Second Mondays at 7:30 PM.
Wichita Falls Commandery No. 59 Knights Templar meet on the Fourth Monday at 7:30 PM.
Red Cross of Constantine Star of Bethlehem Conclave meet in the months of November, February and April.

Wichita Falls Council No.351, Allied Masonic Degrees meets on the Second Friday in the months of March, June, September and December at 11:00 AM.
Mike Donegan Council, No. 102, Knight Masons meets on the First Friday in the months of February, May, August and November at 7:00 PM.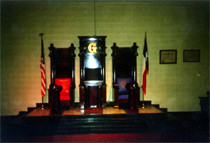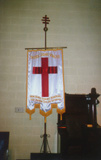 The East and the West in the York Rite Lodge Room.